Technology-Assisted Appraisals
Appraisals engineered to save you time and money while delivering more confidence and accuracy
Cost-effective appraisal alternatives delivered faster with more accuracy and confidence. Leveraging our valuation platform and proprietary data, market specialized appraisers efficiently develop USPAP compliant appraisals for all valuation applications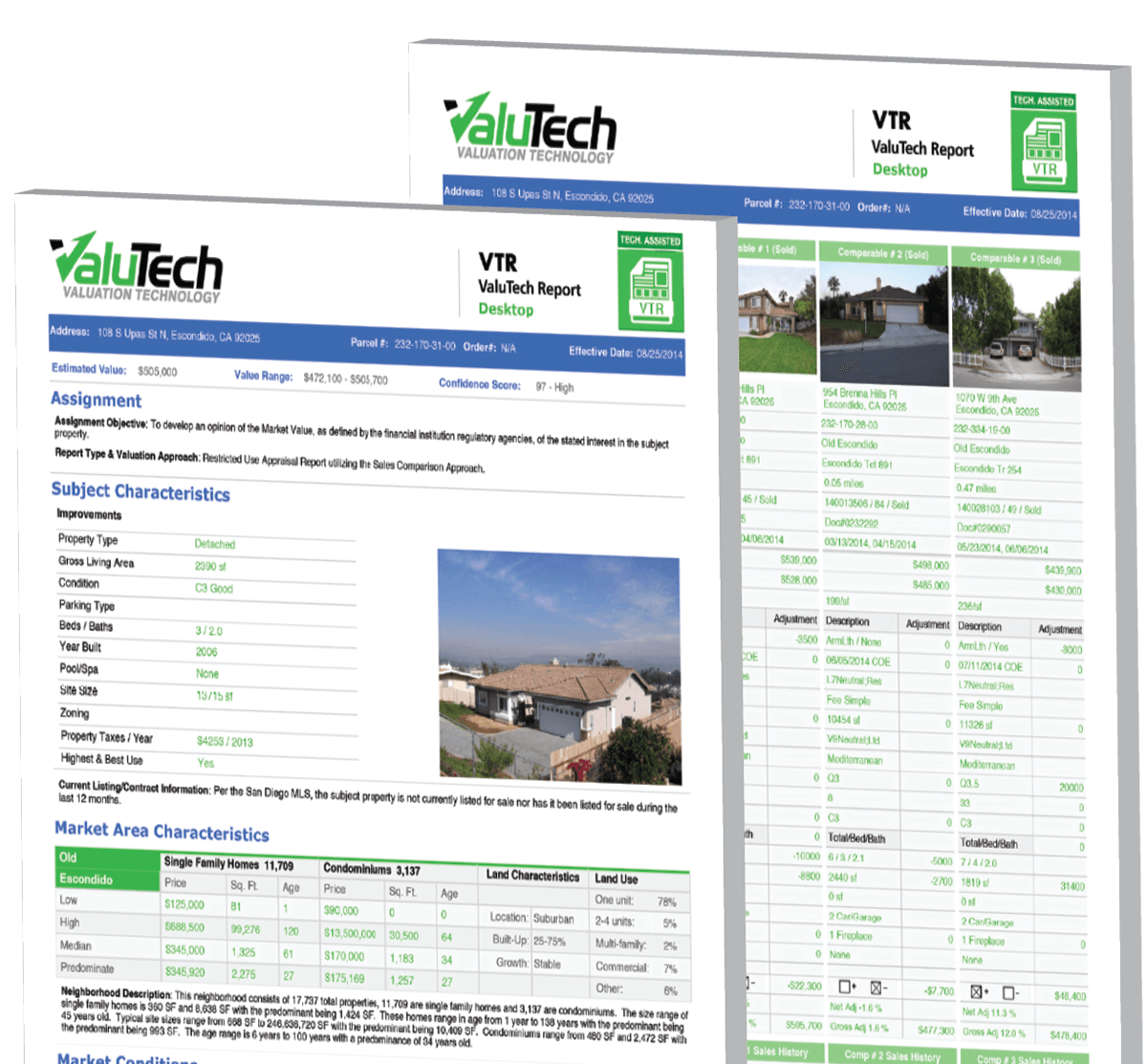 The combination of technology, process and expertise provides a new level of analysis and efficiency to produce highly reliable valuations with comprehensive analytics and information not produced in any other valuation process.
ValuTech Report - Desktop
Provides a low cost, quick turnaround, appraiser derived opinion of market value. Leveraging our technology-assisted appraisal platform to develop the sales comparison approach, neighborhood analysis and market analytics.
Accuracy
Quick Turnaround
Cost-Effective
Concise Report
Compliance
Underwrite Second TDs
Home Equity Loans
Appraisal Reviews
2nd Opinion Valuations
Pre-listing Appraisals

ValuTech Report - Exterior

Based on the appraiser'sexterior view of the subject, the comparables and neighborhood to provide a compliant report which is more accurate than BPO and more cost-effective than aGSE drive-by appraisal.
Enhanced Accuracy
Fasterdelivery
Easily underwritten
Appraiser Expertise
Cost Effective
Home Equity Loans
Estate Appraisals
Divorce Appraisals
2nd Opinion Valuations
Loan Servicing/REO

ValuTech Report - Interior

Interior inspection based appraisal that leverages technology, eliminates inefficiencies andperpetuates expertise to produce a professionally developed valuation alternative for allappraisal applications.
Comprehensive Report
Quantitative Analytics
Qualitative Analysis
Fast Delivery
Expert Developed
Any property valuation application that requires comprehensive appraisal developed by a market
expert

These appraisals break the mold of GSE form reports! They are more concise while providing more relevant information in an intuitive format for ease in understanding the determination of value.

Timely
Timely
Fast delivery to empower time sensitive decisions and more efficient work flow.

Compliant
Compliant
Compliant with the GSE, Interagency Appraisal and Evaluation Guidelines and USPAP

Informative
Informative
Comprehensive reports enhanced with real-time market analytics, charts and graphs

Cost -Effective
Cost -Effective
Superior appraisals at less cost than traditional GSE appraisal products and better value than other AVPs.

No Outsourcing
No Outsourcing
The inspections and entire process is completed by the appraiser and not out-sourced to 3rd parties.

Credible
Credible
Based on the Direct Comparison Approach, the most universally accepted method for determining market value.

Analytics
Analytics
Based on quantitative analytics, qualitative analysis and valuation modeling not possible in other valuation processes.

Accurate
Accurate
Accurate, unbiased opinions of value by professional appraisers with market specific expertise.