Compliant Evaluations engineered to speed up, simplify and save money in your valuation process
Created leveraging our innovative Technology-Assisted valuation platform these Automated and Semi-Automated Evaluations Reports meet the need for evaluations that comply with the Interagency Appraisal and Evaluation Guidelines while providing faster and more cost-effective alternatives to appraisals, BPO's and traditional AVM's.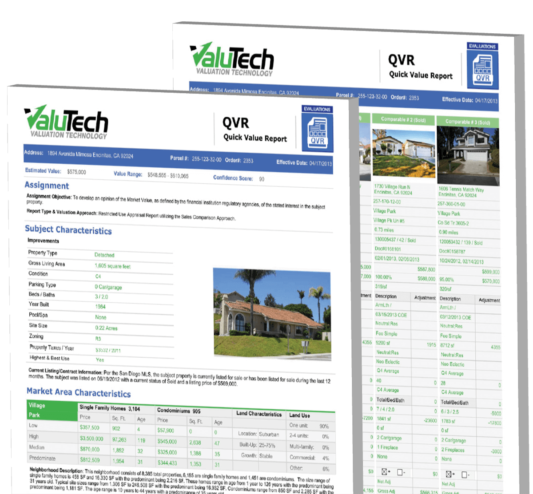 The QVR is a concise automated evaluation report utilizing enriched data and multiple valuation models and statistical routines. It can be enhanced with a market-specialized appraiser selecting the comparables and determining a confidence score or elevated even further with an exterior inspection of the property for ensured compliance with the IAG and even greater confidence.

Utilizes our innovative database-driven valuation process to produce a condition-based, automated evaluation report which can be easily underwritten. For clients who need an instant, regulatory compliant evaluation.
Accuracy
Instant access
Cost-effective
Real-Time valuation
High Hit Rate
Concise Report
Prescreen valuation needs
Low-loan limit HELOCs
Quality Control Tool
2nd Opinion Valuations


Elevated accuracy with appraiser selected comparables analyzed by multiple valuation models. Clients can leverage the knowledge of an appraiser while retaining the speed and cost saving of an AVM.
Enhanced Accuracy
Fast Delivery
Easily underwritten
Low-cost appraiser involvement
Improved Credibility
Underwrite 2nd TDs
Home Equity Loans
Appraisal reviews
2ndOpinion Valuations
Loan servicing


Enhanced compliance gained by an exterior inspection and appraiser selected comparables which fuel valuation models to produce a condition-based evaluation designed to meet the specific requirements of the IAG.
Elevated Accuracy
Real-time Property Characteristics
Greater Confidence
Appraiser engagement
Fast Delivery
Any transaction that requires compliant evaluations
Underwrite HELOCs
REO & loan disposition
2nd Opinion Valuations

Appraiser Assisted w/ Inspection
The QVR is a concise report with sales comparison grid, photographs, neighborhood analysis, real-time market conditions and critical property characteristics – like condition - to provide accurate and compliant evaluations which do not require expertise or special staff to validate or underwrite.

Transparent
Transparent
Transparent report which does not require expertise or special staff to validate or test
Compliant
Compliant
Compliant with the Interagency Appraisal and Evaluation Guidelines and USPAP

Concise
Concise
Detailed to support a credit decision in compliance with safe and sound banking practices

Understandable
Understandable
Sales comparison methodology with comparables adjusted into parity with the subject property.

Timely
Timely
Fast delivery to empower the time sensitive decisions and more efficient work flow.

Credible
Credible
Based on the physical condition and complete characteristics of the subject and comparables

Informative
Informative
Complete property data, photos, real-time market analytics, and neighborhood analysis

Cost -Effective
Cost -Effective
Access to appraiser expertise at a fraction of the cost of traditional appraisal products