Appraisal methodology at AVM speed
Our proprietary automated valuation models create accurate, instant valuations by emulating time-tested appraisal processes, leveraging unique indexes and incorporating multiple statistical models. Fueling our entire valuation platform is appraiser-enriched and validated property data; this proprietary data is the most complete data, engineered specifically for the valuation of real estate.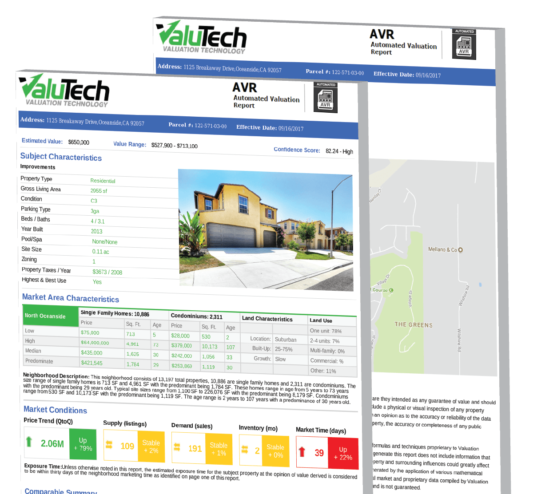 Our valuation methodologies and data collection processes are a whole new approach to property valuation.
In the past, users of AVMs have had to sacrifice accuracy for speed as most AVMs depend upon non-standardized data that lacks the key property attributes necessary to deliver accurate values. Now, a more accurate instant alternative is available.
Automated Valuation Report

Leverages valuation algorithms and proprietary appraiser-enriched data to produce a summary one-page report containing essential property, comparable, active listing and market data for a concise view of the property, its value and market conditions.
Accuracy
Instant access
Cost-effective
Real-Time
High Hit Rate
Concise Report
Pre-screen a property value, compliment the QC process; obtain asset disposition values or monitor the value of a single property or an entire portfolio.

Pre-Application Valuation

A web-based report providing indications of value, key indicators and data points necessary for loan originators & lending staff to pre-screen a property at the beginning of the loan process, obtain product recommendations and a guaranteed appraisal fee.
Accurately price and place loans
Validate LTV Ratios
Eliminate revisions to the GFE
Reduce appraisal surprises
Save time working on fundable loans
For lenders and loan officers to obtain an initial indication of value, key metrics that may affect pricing, product recommendations and appraisal fee quote


The jumpstart is an XML file of enriched appraisal data, comparables and analytics sent to the appraiser upon engagement for easy import into their form software to get a jump on the appraisal process.
Appraisal quality
Consistency across all appraisers
Reduced loan funding times
Limits underwriting headaches
Used to dramatically reduce appraisal development times and improve appraisal quality and consistency

Our innovative platform delivers more accurate instant valuations in real-time which contain essential property, comparable, active listing, market, and neighborhood data for an accurate view of a property, its value and the prevailing market conditions.

Robust Analytics
Robust Analytics
Based on quantitative analytics, qualitative analysis and valuation modeling not possible in other valuation processes.

Fast
Fast
Instant delivery to empower time sensitive decisions and more efficient work flow.

Cost Effective
Cost Effective
Affordable access to accurate instant valuations
Accurate
Accurate
Based on the complete characteristics of the property and comparables

Concise Report
Concise Report
Detailed to support a credit decision in compliance with safe and sound banking practices

Real-Time Data
Real-Time Data
Daily updates to our database eliminates data lag experienced by other AVM's.

Informative
Informative
Complete property data, photos, real-time market analytics, and neighborhood analysis

Unbiased
Unbiased
Based on statistical models which are not influenced by individual perceptions.