Appraisals engineered to save you time, money, frustration and fund more loans
We've elevated the traditional GSE Form reports production with automation, analytics and expertise. Market specialized appraisers using innovative technology and a systematic process are more efficient, knowledgeable, and professional with the capacity to develop detailed lending appraisals in less time and with greater accuracy and consistency to streamline your lending process.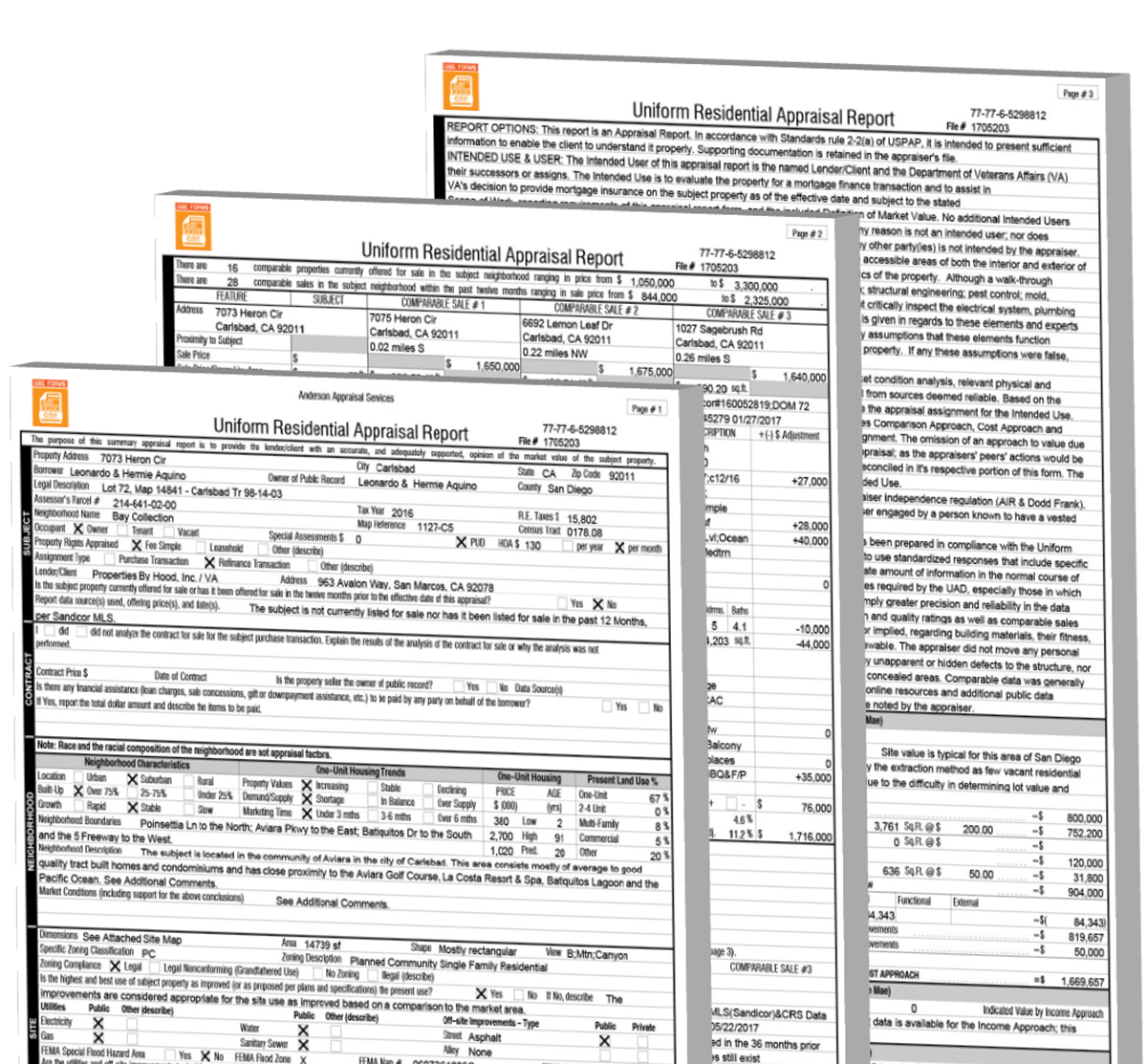 Our standardized process leverages automation, analytics and expertise to produce USPAP & GSE guideline compliant appraisals with quantitative support, report consistency and faster turn-around times required in the competitive mortgage lending industry.

Exterior-inspection based appraisals used for a single-family residential properties and condominiums. Developed leveraging our technology-assisted valuation process to produce appraisals with quantitative and qualitative support.
Accuracy
Quick Turnaround
Consistency
Quality
Compliance
Used by regulated institutions for second trust deed loans, home equity lines of credit, and low LTV first trust deeds.


Interior inspection based appraisals produced by market specialized appraisers utilizing our interactive valuation platform and mobile data collection applications produce appraisals more quickly and accurately.
Enhanced Accuracy
Fasterdelivery
Easily underwritten
Appraiser Expertise
Quantitative Support
Used for mortgage origination and loan underwriting for loans being sold to the GSE's.


The 1025 GSE Appraisal Form is used for multi-unit residential properties; based on interior inspections and three approaches to value. Technology is merged with market expertise to produceaccurate well substantiated opinions of value.
Comprehensive Report
Real-time Property Characteristics
Qualitative Analysis
Fast Delivery
Expert Developed
Used for lending on multi-unit residential properties by regulated institutions and loans being sold to the GSE's.

The traditional GSE Forms have been developed the same way for decades. Our model has been engineered to utilize modern technology and systematic process to produce accurate appraisals utilizing adjustment extraction applications, regression analysis, index modeling, matched pairs and sensitivity analysis to provide factual quantitative support to the determination of value.

Timely
Timely
Fast delivery to empower time sensitive decisions and more efficient work flow.

Compliant
Compliant
Compliant with the GSE, Interagency Appraisal and Evaluation Guidelines and USPAP

Informative
Informative
Comprehensive reports enhanced with real-time market analytics, charts and graphs

Cost -Effective
Cost -Effective
Superior appraisals at same cost as other GSE appraisal providers.

Consistency
Consistency
Consistent report layout and content location for ease of review and underwriting

Accurate
Accurate
The most accurate appraisal available developed using multiple valuation models

Analytics
Analytics
Based on quantitative analytics, qualitative analysis and valuation modeling not possible in other valuation processes.

Unbiased
Unbiased
Based on statistical models which are not influenced by individual perceptions.