As an Attorney your time is a valuable commodity. Now you have fast access to property values to better serve your clients
Work with products that are guaranteed to be
+ Fast
Save precious time with appraisals available instantly or within days.
+ Informative
Concise reports containing critical information necessary to make informed decisions.
+ Accurate
Unique process, innovative technology and appraiser specialization provide more accurate home value alternatives.
APPRAISAL ALTERNATIVES DESIGNED TO MEET YOUR NEEDS

Technology-Assisted Appraisals are the integration of appraiser's expertise with innovative technology to produce accurate, efficient appraisals which span the entire valuation spectrum at varying levels of speed, cost, credibility and compliance.

Save money with a range of appraisal reports available for much less than standard lending appraisals. Prices from $20 to $450+

Impartial, Expert Opinions
Validate your opinions with insight from an appraiser who specializes in your market and leverages technology to improve accuracy

Save precious time and limit surprises in escrow. Easy to order online and available instantly, within 24 hours or within a few days

Reports you can trust which are USPAP & IAG compliant and completed to standard lender guidelines
INNOVATIVE TECHNOLOGY MAKES US DIFFERENT
At the core of our innovative process is data base containing millions of property records and over two decades worth of sales transactions. This data is continuously updated, validated and standardized using a proprietary rating system engineered for the valuing real estate.
This rich data fuels sophisticated valuation algorithms, analytic research and an appraiser- driven software platform to produce unique, accurate appraisal products which cannot be produced by any other appraisers or company.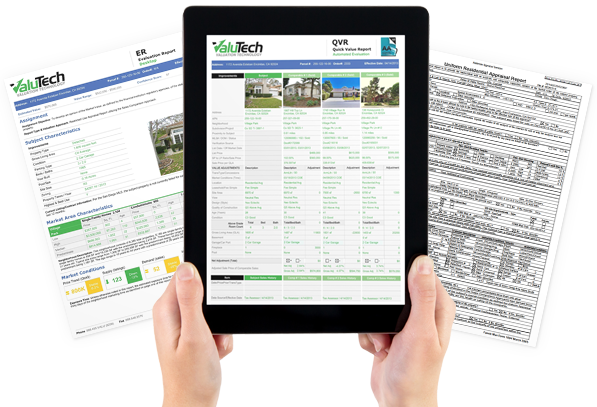 CHOOSING THE RIGHT PRODUCT FOR YOUR NEEDS
ValuTech's products are designed to provide you with accurate home value alternatives with graduated prices, content, accuracy and appraiser involvement.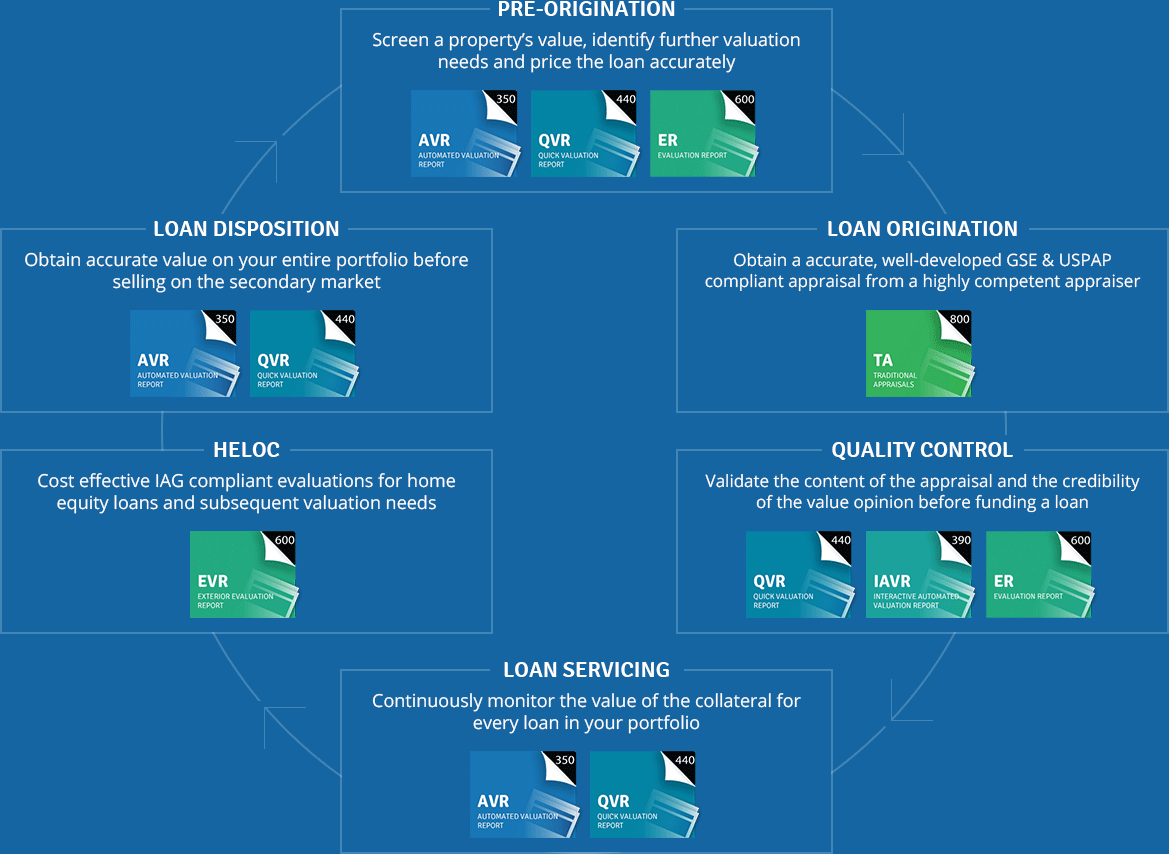 What's the difference between Automated & Appraiser Developed?
Automated values are derived from a computer-driven model that calculates a value base on an appraiser prescribed process. Appraiser Developed means an appraiser derives the value applying standard appraisal techniques.
Does Instant mean I get a report while checking out?
Yes, instant means your get the results immediately. Our other reports have quick deliveries; however, they require appraiser involvement which requires more time to develop.
The AVR is only $20, why wouldn't I order it?
The AVR is a great report. It is an excellent choice when you need an initial indication of value quickly or in a low risk transaction. It works very well in conforming areas; however, it is less ideal when a highly accurate value is needed or if the property is unique or if the neighborhood is very diverse.
What is compliant with USPAP and IAG mean?
USPAP is the Uniform Standards of Professional Appraisal Practice which sets the legal standards all appraisers must comply with. IAG is the Interagency Guidelines which establish regulations that all banks and credit unions must comply with pertaining to lending and appraisals requirements.
Why does the accuracy vary?
The percentage indicates the typical variance between the indicated value and a known value. The accuracy varies mostly due to the appraiser's involvement in the process or due to the uniqueness of the property, unknown variables and market characteristics.
What's the difference in content?
The content or information contained in the reports increase as you move along the scale. Sometimes, clients do not require a lot of information in a report and just want the value and necessary information for compliance.
The QVR has a Sales Grid & Photos, why is that important?
The QVR is designed with a sales grid and property photos, so that the reader can see how the value was calculated and judge the relevance of the comparables to the subject, as well as, the credibility of the value. It is a data rich report used by banks, credit unions and lenders for compliance with regulations.
Why is the Eval considered the best value?
The Evaluation Report offers a high level of accuracy and compliance at a fraction of the cost of a traditional appraisal. The appraiser develops the Sales Comparison Approach, the most recognized approach for determining value and the report contains all critical information needed to understand the value determination and comply with regulations.